Holy Dev - a programming buddy for hire
I have established my one-person company Holy Dev in 2021 to give a legal frame to what I love most - helping other people getting better in Clojure and the parts of its ecosystem I know and solving their problems, by means of teaching, mentoring, consulting, and pair-programming.
Mentoring
My current focus is primarily on 1-on-1 mentoring and pairing to help folks learn Fulcro, the unique full-stack web framework for sustainable development, and on teaching. A part of the proceeds goes to the sponsorship of Fulcro's author, Tony Kay, and the rest helps me - together with inputs from my awesome mentees - create learning resources such as the Minimalist Fulcro Tutorial, the accompanying fulcro-exercises, the Fulcro Troubleshooting Decision Tree, and the Fulcro Community site.
If you are interested in enlisting my help, and are able and willing to pay €20* / 15 minutes (as of 8/2021) (with a negotiable free trial), do not hesitate to get in touch.
* The amount is slightly higher than my salary, to justify both to myself and my family that I am spending even more time in front of the computer. About half of the amount goes to taxes, so that we can have roads and free schools and all the other great things.
Testimonials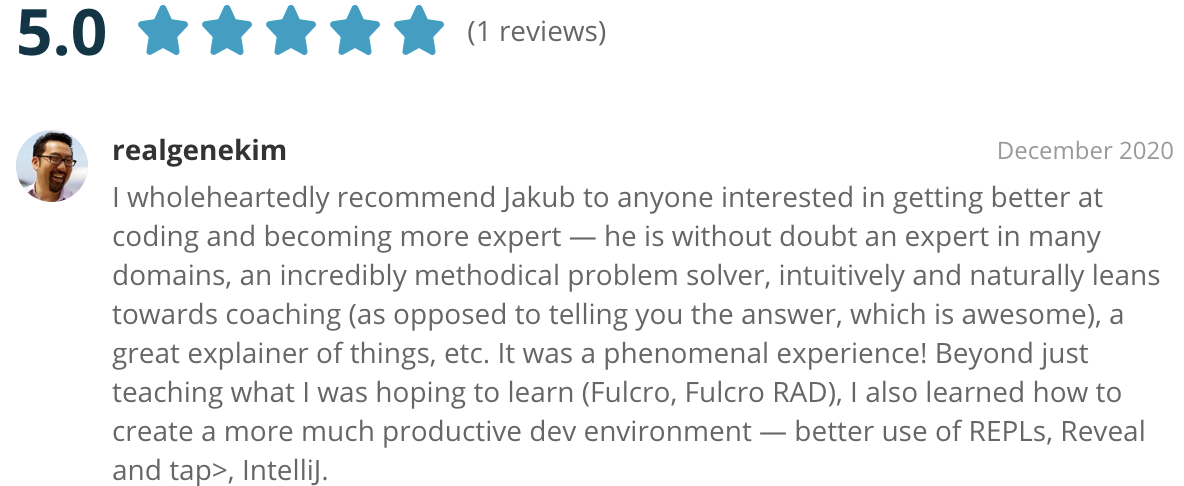 Teaching
I can help your group, team, or company get better at Fulcro. I can for example facilitate the workshop Introduction to creating webapps with Fulcro for a reasonable compensation. If you are interested then get in touch.